3 crew in 8 different variations / paintings were sitting on a bench - here an orange bench
sitting on a bright-brown bench - and red hat
now sitting on a dark-brown bench
unpainted massive crew from the factory's archives. These figures were originally designed as "Tractor drivers" for GAMA, Kellermann and Tipp & Co - but Biller took them (slightly modified) as working crew for the 504 and trucks.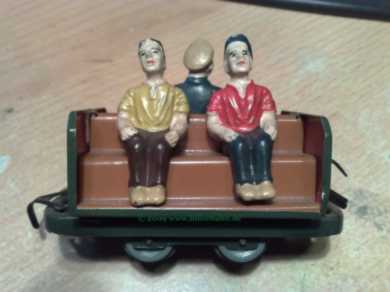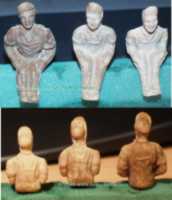 also available with plastic crew - sitting on a brown or - as here - orange bench
Plastic crews were produced after 1963 - here we have the unpainted red and blue version. Everything except the shirt was hand-painted by mainly female home workers in the Nuremberg area.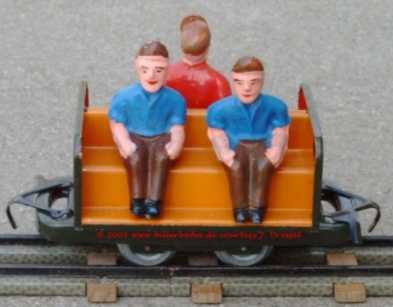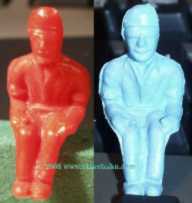 The mould for the plastic figures. A quite heavy piece of tool - 12,6 Kg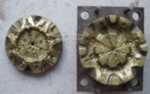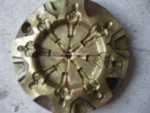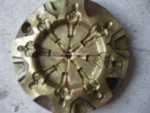 This original mould for the Crew was sold at ebay Germany 07th JAN 2011 for 357 EUR.
Crew-wagon re-make
this is a complete re-make - green chassis with cream bench. Red crew available as well.
For "Spare Crew" please visit the "Tipps" page for more information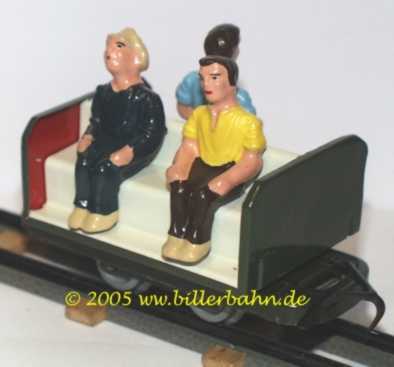 benches in beige, orange, bright- and dark-brown
now the chassis is light blue - the bench is cream - the figures are always plastic
plastic figures in red, blue, yellow and white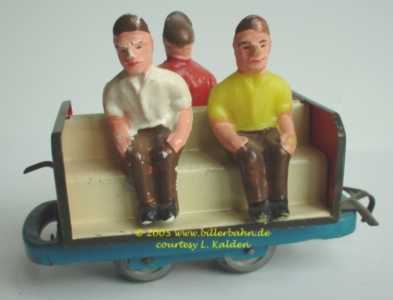 The figures of the 1st series had suspenders on the back - NOT the one wearing the dark blue workers suite. Today these figures suffer from an obviously bad composition of material. Later crews had another "mixture" and the suspenders disappeared.
The figures were of different heights of 42 mm or 44 mm. This was depending on the "haircut or hat". Trousers Brown or Blue. Hair, as far as visible, Brown.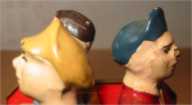 Crewmen wearing yellow and light blue shirt. No caps, the light blue man with bend arm, brown shoes
Figures with yellow and light blue shirt, both wearing bent caps, arms straight on the thigh, black shoes
normal and bent-up cap
Figure wearing dark blue workers suite, brown "normal" cap, arms straight on the thigh
Figure wearing red shirt, dark blue or beige bent cap, arms straight on the thigh, brown shoes
also seen with red shirt and bent red cap